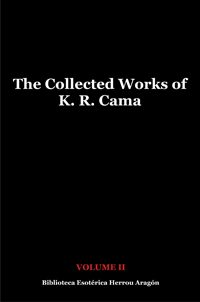 PRECIO INTERNACIONAL
39.50 USD | 34.50 €
DESCRIPCIÓN
Facsimil of the edition of Bombay, 1968. Originally published by The K. R. Cama Oriental Institute containing all the works of the renowned oriental scholar, K. R. Cama, in two volumes. 417 pages, 16 x 24 cm.
.:: vea los principales temas más abajo ::.
PRINCIPALES TEMAS
The Zoroastrian mode of disposing of the dead. Avesta and the Genesis, or the relations of the Iranians to the Semites. Comparison of the laws of Ormuzd with the laws of Jehova. Vendidad. The Zoroastrian Calendar. The Avestan word ahu as distinguished from sti and gaetha (Dastur Hoshang Memorial Volume). Jamshedi Naoroz – The New Years day of the Ancient Persian Empire. A discourse on Jamshedi Naoroz. The Jewish Angeology and Demonology based upon Parsism. The Persian and Jewish Doctrines of the resurrection and the Immortality of the Soul. A discourse on Mithraic worship, and the rites and mysteries connected with it. A discourse on Zoroastrians and Freemasonry. A discourse on Freemasonry among the Natives of Bombay.